This piece was created by Agueda Dudley-Berrios: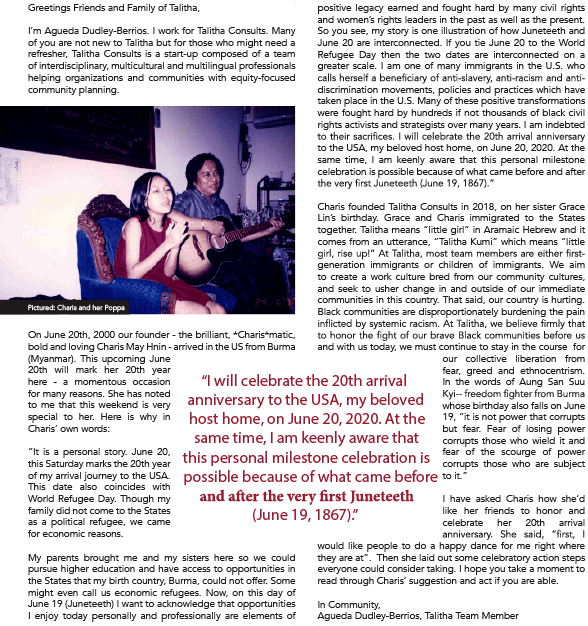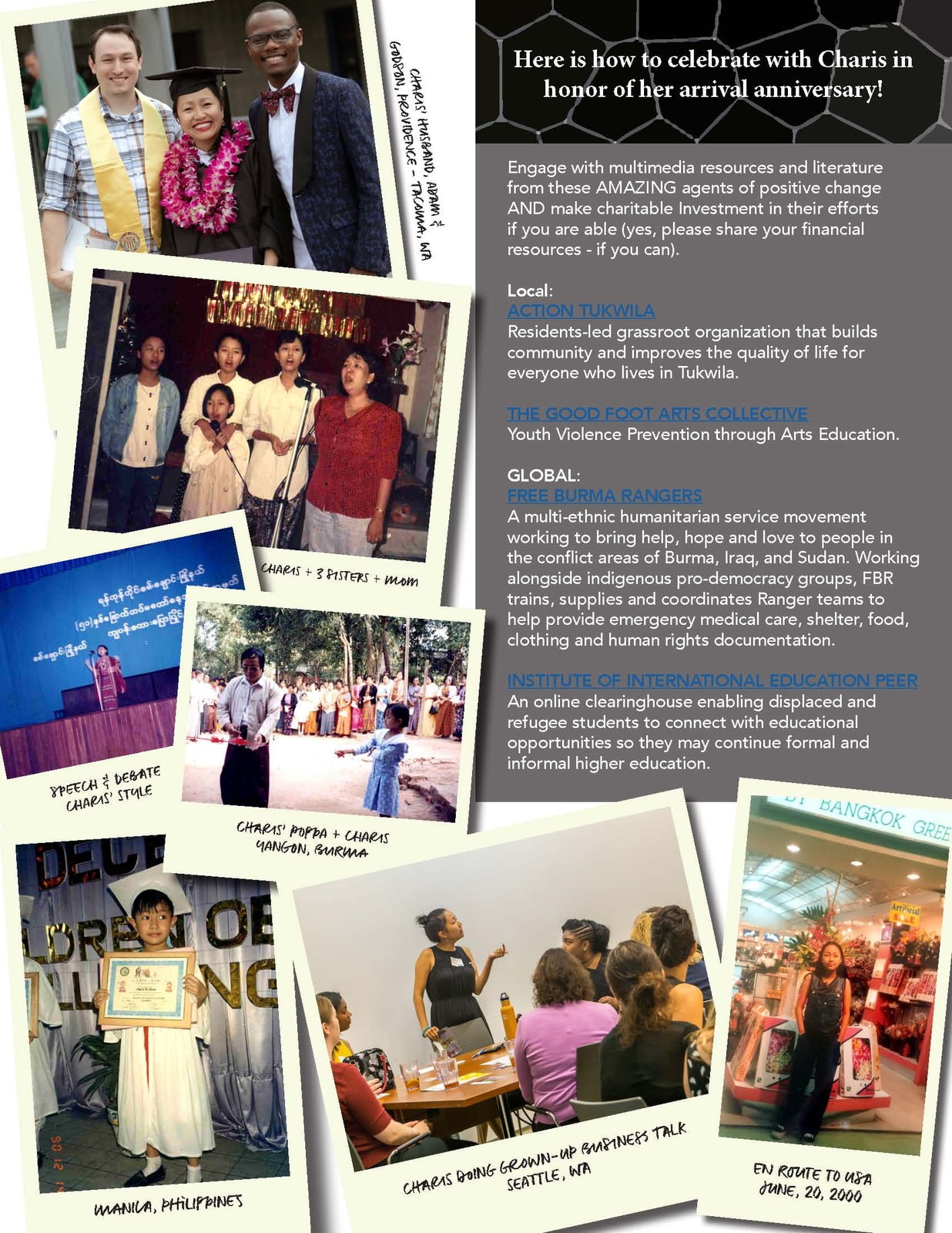 Greetings Friends and Family of Talitha,
I'm Agueda Dudley-Berrios. I work for Talitha Consults. Many of you are not new to Talitha but for those who might need a refresher, Talitha Consults is a start-up composed of a team of interdisciplinary, multicultural and multilingual professionals helping organizations and communities with equity-focused community planning.
[PICTURED: Charis and her Poppa]
On June 20th, 2000 our founder – the brilliant *Charis*matic, bold and loving Charis May Hnin – arrived in the US from Burma (Myanmar). This upcoming June 20th will mark her 20th year here – a momentous occasion for many reasons. She has noted to me that this weekend is very special to her. Here is why in Charis' own words:
"It is a personal story. June 20, this Saturday marks the 20th year of my arrival journey to the USA. This date also coincides with World Refugee Day. Though my family did not come to the States as a political refugee, we came for economic reasons.
[QUOTE: "I will celebrate the 20th arrival anniversary to the USA, my beloved host home, on June 20, 2020. At the same time, I am keenly aware that this personal milestone is possible because of what came before and after the very first Juneteenth (June 19, 1867)."]
My parents brought me and my sister here so we could pursue higher education and have access to opportunities in the States that my birth country, Burma, could not offer. Some might even call us economic refugees. Now, on this day of June 19 (Juneteenth) I want to acknowledge that opportunities I enjoy today personally and professionally are elements of positive legacy earned and fought hard by many civil rights and women's rights leaders in the past as well as the present. So you see, my story is one illustration of how Juneteenth and June 20 are interconnected. If you tie June 20 to the World Refugee Day then the two dates are interconnected on a greater scale. I am one of many immigrants in the U.S. who calls herself a beneficiary of anti-slavery, anti-racism and anti-discrimination movements, policies and practices which have taken place in the U.S. Many of these positive transformations were fought hard by hundreds if not thousands of black civil rights activists and strategists over many years. I am indebted to their sacrifices. I will celebrate the 20th arrival anniversary to the USA, my beloved host home, on June 20, 2020. At the same time, I am keenly aware that this personal milestone celebration is possible because of what came before and after the very first Juneteenth (June 19, 1867)"
Charis founded Talitha Consults in 2018, on her sister Grace Lin's birthday. Grace and Charis immigrated to the States together. Talitha means "little girl" in Aramaic Hebrew and it comes from an utterance, "Talitha Kumi" which means "little girl, rise up!" At Talitha, most team members are either first-generation immigrants or children of immigrants. We aim to create a work culture bred from our community cultures, and seek to usher change in and outside of our immediate communities in this country. That said, our country is hurting. Black communities are disproportionately burdening the pain inflicted by systemic racism. At Talitha, we believe firmly that to honor the fight of our brave Black communities before us and with us today, we must continue to stay in the course for our collective liberation from fear, greed, and ethnocentrism. In the words of Aung San Suu Kyi – freedom fighter from Burma whos birthday also falls on June 19, "it is not power that corrupts but fear. Fear of losing power corrupts those who wield it and fear of courage of power corrupts those who are subject to it."
I have asked Charis how she'd like her friends to honor and celebrate her 20th arrival anniversary. She said, "first, I would like people to do a happy dance for me right where they are at". Then she laid out some celebratory action steps everyone could consider taking. I hope you take a moment to read through Chari's suggestion and act if you are able.
In Community,
Agueda Dudley-Berrios, Talitha Team Member.
Here is how to celebrate with Charis in Honor of her arrival anniversary!
Engage with multimedia resources and literature from these AMAZING agents of positive change AND make charitable Investment in their efforts if you are able (yes, please share your financial resources – if you can).
Local:
ACTION TUKWILA: Residents-led grassroot organization that builds community and improves the quality of life for everyone who lives in Tukwila.
THE GOOD FOOT ARTS COLLECTIVE: Youth Violence Prevention through Arts Education.
Global:
FREE BURMA RANGERS: A multi-ethnic humanitarian service movement working to bring help, hope and love to people in the conflict areas of Burma, Iraq, and Sudan. Working alongside indigenous pro-democracy groups, FBR trains, supplies and coordinates Ranger teams to help provide emergency medical care, shelter, food, clothing and human rights documentation.
INSTITUTE OF INTERNATIONAL EDUCATION PEER: An online clearinghouse enabling displaced and refugee students to connect with educational opportunities so they may continue formal and informal higher education.
[PICTURED SET OF PHOTOS: 1. Charis' Husband Adam & Godson, Providence – Tacoma, WA. 2. Charis + 3 Sisters + mom. 3. Speech & Debate Charis' Style. 4. Charis' Poppa + Charis, Yangon, Burma. 5. Little Charis, Manilla Phillippines. 6. Charis Doing Grown-Up Business Talk, Seattle, WA. 7. Charis En Route to USA, June 20, 2000.]