Happy Lunar New Year From Our Team to Yours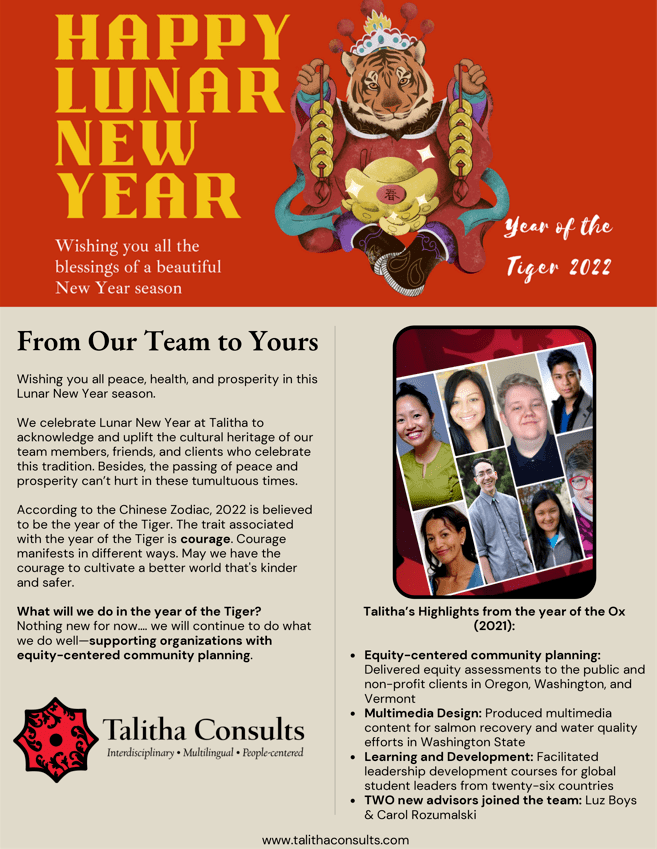 Happy Lunar New Year | Year of the Tiger 2022

Wishing you all the blessings of a beautiful New Year season
From Our Team to Yours
Wishing you all peace, health, and prosperity in this Lunar New Year season.
We celebrate Lunar New Year at Talitha to acknowledge and uplift the cultural heritage of our team members, friends, and clients who celebrate this tradition. Besides, the passing of peace and prosperity can't hurt in these tumultuous times.
According to the Chinese Zodiac, 2022 is believed to be the year of the Tiger. The trait associated with the year of the Tiger is courage. Courage manifests in different ways. May we have the courage to cultivate a better world that's kinder and safer.
What will we do in the year of the Tiger?
Nothing new for now…. We will continue to do what we do well – supporting organizations with equity-centered community planning.
Talitha's Highlights from the year of the Ox (2021)
Equity-centered community planning:

delivered equity assessments to the public and non-profit clients in Oregon, Washington, and Vermont.

Multimedia Design:

Produced multimedia content for salmon recovery and water quality efforts in Washington State.

Learning and development:

facilitated leadership development courses for global student leaders from twenty-six countries.

TWO new advisors joined the team:

Luz Boys & Carol Rozumalski